May there be more light: Front and back headlights, working headlights and now a LED Light Bar mounted to the roof of our Sprinter!
Big cities like our hometown Hamburg, Germany have thousands of street lights, but the Pan-American Highway and its graveled roads far away from any civilization probably do not. So we thought it would be great to have some more light! We won't always travel the main roads and won't always spend the nights on campgrounds. Even though we do not plan to drive at night, dusk may hit sooner than later. So we want to be prepared when looking for a safe spot to park for the night with our additional headlights.
Of course our Sprinter has the regular front and back headlights. When we got it, it also already had two rear working headlights which we already renewed. For even more light, we now have a 130 cm LED Light Bar with 117 watts and 8.190 lumen from AdLuminis with 39 High-Power OSRAM LEDs mounted up front on our roof! The mountings are not at the side of the Light Bar but grasp from the back as well as from below, and can be attached anywhere at the length of the Bar.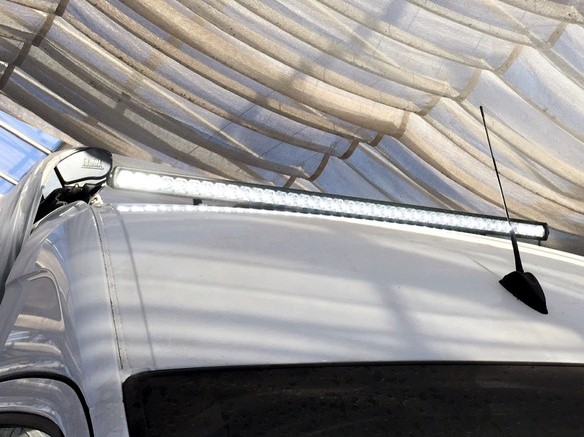 For mainly visual reasons we would have liked a Curved Light Bar. But it just did not fit because of our Solar Panels sitting quite up front on the roof. Another straight light bar with mountings on the right and left end also did not fit. For one thing it was lying on the roof, because of the height of the mountings, and for another the mountings were sitting on the edges of the arch of the roof; to attach the mountings they would have had to be backed with additional pieces – but this seemed too unsure regarding the TÜV-approval and we also did not like how that looks.
Talking of TÜV: If you plan on installing additional headlights like our rear working headlights or this Light Bar in the front; keep in mind that they have to be operated separately from the "regular" vehicle lighting with additional switches.
Even though we had to compromise with this LED Light Bar, we really like it: easy to install, looks good and is bright enough for a late parking spot search!