May we introduce – our travel companion, our new home, our Sprinter! At first sight, it is just a used cargo van, but to us it is the base for our overland camper. Let us show you the layout and our ideas for the conversion.
It took us quite some time to decide which would be the best basic vehicle for us and our PanAm-travel-plans. We choose to get a Mercedes Sprinter for different reasons: bigger living area, more standing height (Jan is almost 2 meters / 6´6´´ tall) and the possibility of a "bathroom". For price reasons we decided to get a 2×4 vehicle. But thanks to a lucky coincidence we were able to buy this 4×4 Sprinter.
Main details of our Sprinter
Vehicle                                Mercedes Benz Sprinter 316 CDI 4×4 medium length / high roof
First registration               05/2012
Mileage                               167.853 km (104.299 mi)
Engine displacement       2.143 cm³
Engine power                    120 kw (163 PS)
Fuel type                            Diesel
Gear change                      Manual
Vehicle gross weight       3,5 t
Length/Width/Height     5,91 m / 1,99 m / 2,78 m
4×4                                       yes
The Sprinter was manufactured in Stuttgart and then delivered to a Mercedes dealer in Heide, which is actually not too far away from our hometown Hamburg, so we've already been pretty close to our Sprinter before! From Heide it was sold to Bulgaria and spent 4 years in Warna and another 2 years in Sofia where it was used as a maintenance vehicle for the biggest European manufacturer of wind power systems. Via contacts it was sold to Bavaria and then to Hamburg – and this is the beginning of new adventures!
The layout
What we need: a bed, a table, a place to sit, a kitchenette and lots of storage room
What we want: a "bathroom" (wet room)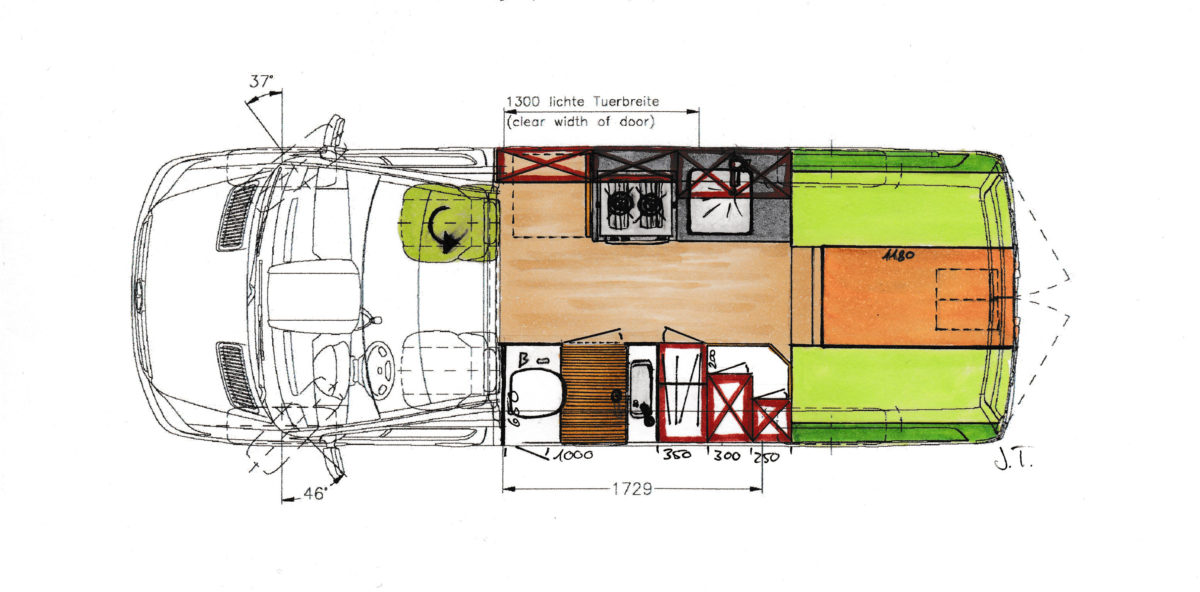 The sleeping and sitting area is built on a platform; the area below is storage room. For sleeping, the table can be lowered so the seat and back cushions will become the sleeping surface. On the side of the sliding door is the kitchenette with cooking and working surface, sink, fridge and hanging cabinets to store cooking utensils and food. On the other side is a combo of three closets with different depths, so the living area will be open. Behind the driver's seat is the wet room with the shower, tub, toilet and sink.
Starting condition
The sprinter is not new, it was used as a utility vehicle, therefore has one or two signs of usage. To give you an impression of the condition the Sprinter was in when we got it, we also want to share some pictures from before the conversion.