In the winter you want it nice and warm but in the summer refreshingly cool. For the best possible thermal insulation, low heat loss outwards and an always pleasant room climate, we insulate our Sprinter Campervan with Armaflex-AF!
For thermal insulation we are using Armaflex-AF from Armacell, it's an insulation material made of caoutchouc/rubber. Because of its closed cells, the material does not absorb moisture, therefore the risk of corrosion (rust) below the insulation is very low. Armaflex has great fire behavior, is low weight and keeps its shape, which means it does not expand or shrink due to heat or cold. It's easy to cut with scissors or a craft-knife (we recommend always using a new and sharp blade).
For insulating your campervan you should only be using Armaflex-AF! The other products are made for different fields of application such as shipbuilding, heating systems or sanitary facilities.
Armaflex is available in mats or plates on rolls (e.g. 6 m2 in 6 x 1 m) in different thicknesses (3 mm – 50 mm). With the different thicknesses, some uneven surfaces or bars can be insulated with thinner material so there won't be any cold spots. You can either use the one-sided self-adhesive mats or the non-self-adhesive mats in combination with Armaflex-Glue or Pattex. To seal the hems of the Armaflex mats we are also using Armaflex-Tape which is 3 mm thick and 50 mm wide.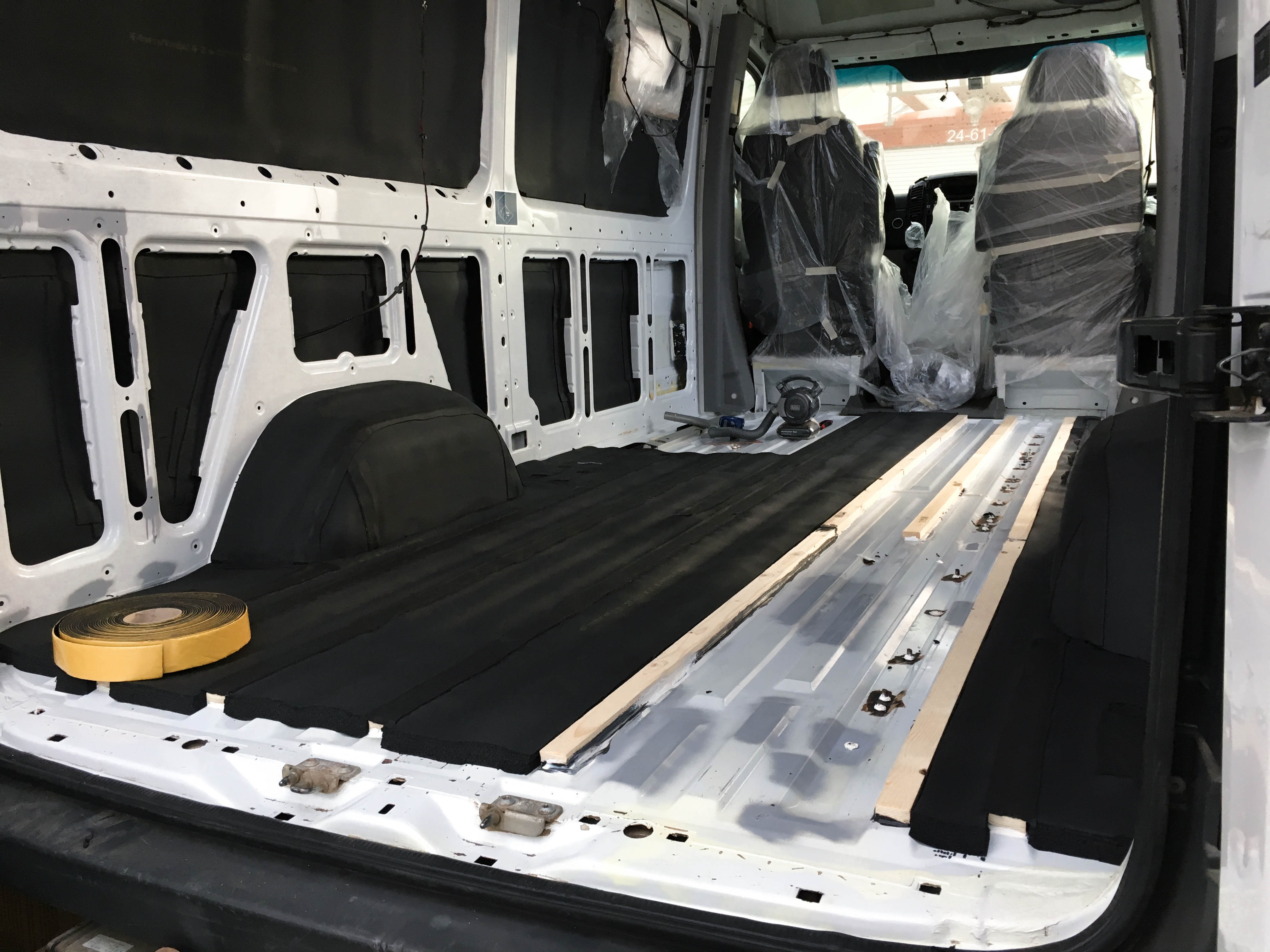 This is the self-adhesive Armaflex we used in the certain areas of our van:
Armaflex 25 mm: floor, ceiling, side walls, sliding door, rear doors
Armaflex 19 mm: wheel case, ceiling in the driver's cab
Armaflex 10 mm: small matters
Armaflex 6 mm: bars
Most people who self convert a campervan use Armaflex 19 mm, for the question of "why" stays unanswered, it just seems to be the most common way to insulate your camper. But unlike all others, we are mainly using Armaflex 25 mm for the following reasons: We will travel to some quite cold regions, to the Arctic Ocean in Alaska and all the way to the Drake passage between Patagonia and Antarctica. That's why we want to keep it warm and have our future Diesel heater work as efficient as possible and lose as litte heat as possible outwards. The thicker version sure is a little heavier and the standing room a little smaller, but that won't be a problem for us. Hopefully – we'll see 😉
After insulating the van with Armaflex the walls as well as the ceiling will be paneled with some nice looking 6 mm plates made of poplar plywood and HPL covering. They will also insulate a little bit, too.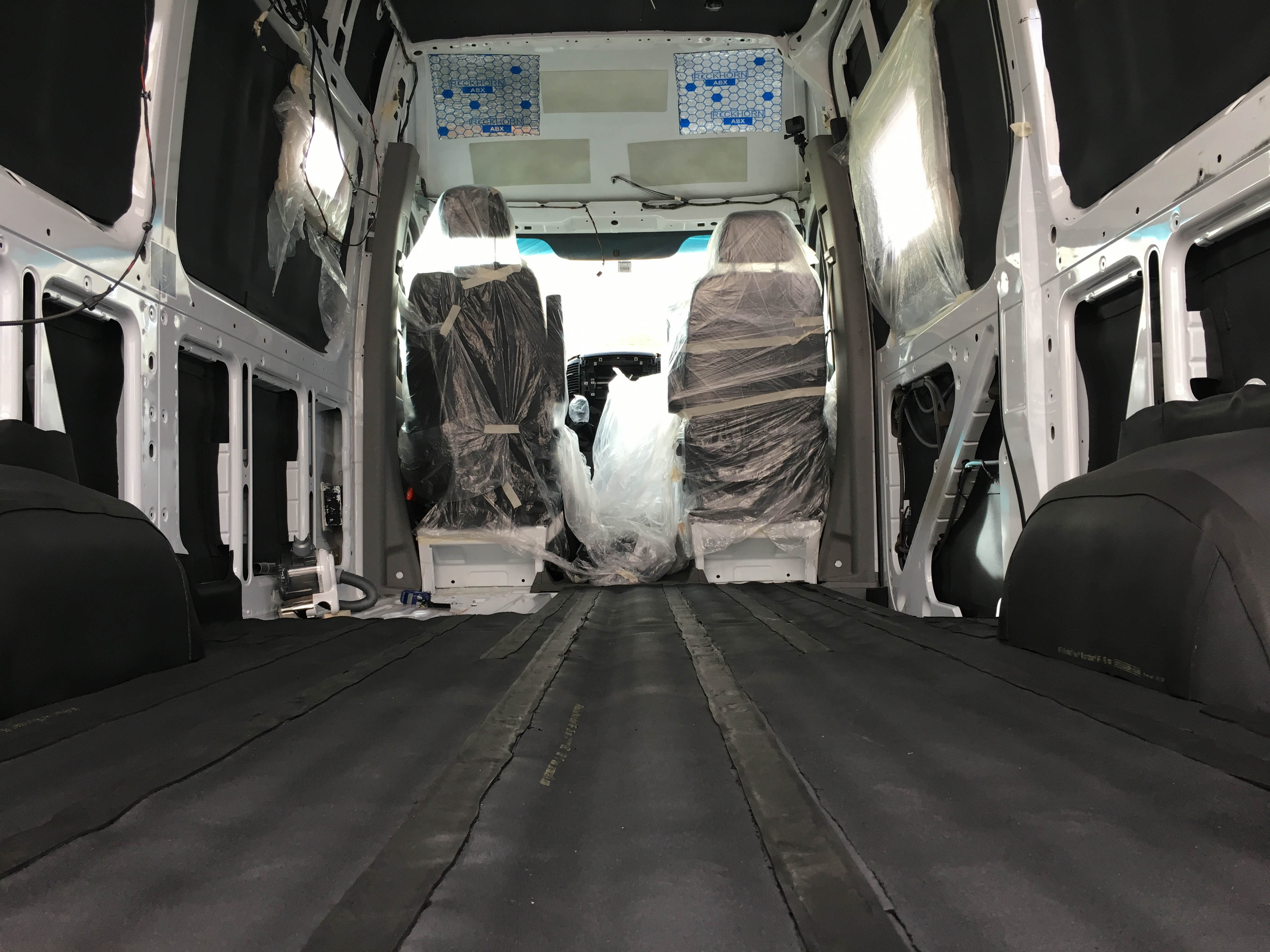 Pros
Because of its flexibility, the mats can be adjusted to the shape of the walls so there won't be any cold spots
The structure of closed cells prevents the absorption of moist so rust is not able to form
Low weight (approx. 2 kg / m2 at 25 mm thickness)
Great fire behavior which means it is flame-resistant
Keeps its shape regardless of heat or cold
Easy to cut into the right shape with scissors or a craft-knife
With the self-adhesive version, no additional glue is required
Cons
In comparison, quite expensive (approx. 20,00 € / m2 at 25 mm thickness)
Despite its flexibility some hard to reach hollow spaces can not be filled, for the material is

 

a little too stiff
Price
Ø approx. 15,00 € / m² (depending on the thickness; the thinner, the cheaper)
Thickness 10 mm: ca. 12,20 € / m²
Thickness 19 mm: ca. 12,50 € / m²
Thickness 25 mm: ca. 20,00 € / m²
Armaflex-AF is available online e.g. in 19 mm or 25 mm thickness as well as the Armaflex-Tape to seal the hems.
Read more about campervan insulation basics. Also read about noise insulation with Alubutyl. And then there's tips and alternatives to Armaflex-AF.
The following products were used for the installation: