When we chose our vehicle, it was pretty clear that to be autarkic we need a small bathroom or a wetroom in our campervan. This is our shower tray made of stainless steel!
One of the main reasons we chose a cargo van is the possibility to have a bathroom. We do not want to be on campgrounds and truck stops all the time or always searching for a place to wash in the morning and definitely do not want to go outside alone in the dark at night! Plus, you can use the wet room to dry wet clothes and gear.
On a space as little or big as approximately 100×67 cm we are building our wetroom.
Searching for a fitting shower tray we checked out different options and finally decided to have a custom shower tray made according to our wishes.
We considered stainless steel, plastic or GRP (glassfibre-reinforced plastic). Weighing in the pros and cons as well as the price we chose stainless steel for our shower tray.
Material
Pros
Cons
Price*

Stainless Steel
solid

easy to clean

cool floor (w/o pad)

high weight

approx. 300 – 600 €
Plastic
lightweight
breaks easily
approx. 700 €
GFK
solid

lightweight

expensive
approx. 850 €
*for a custom made shower tray according to our wishes
Our custom shower tray is made of 1,5 mm stainless steel; the base is made of one piece, the sides are welded all around. With regard to our shower door we already included an edge of 4 cm on the front.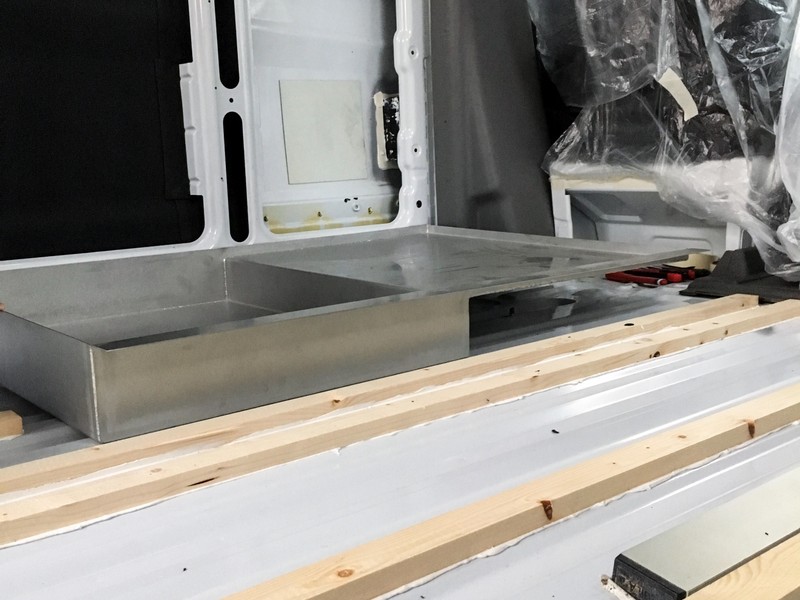 We chose a shower tray with two levels and will place the toilet on the higher level. This is important for the service flap through which the cassette of the toilet will be removed. If we had a ground level shower tray, the cassette would be at one level with the lower bar and then could not be taken out. Update: Also watch the black plastic panel outside of the vehicle!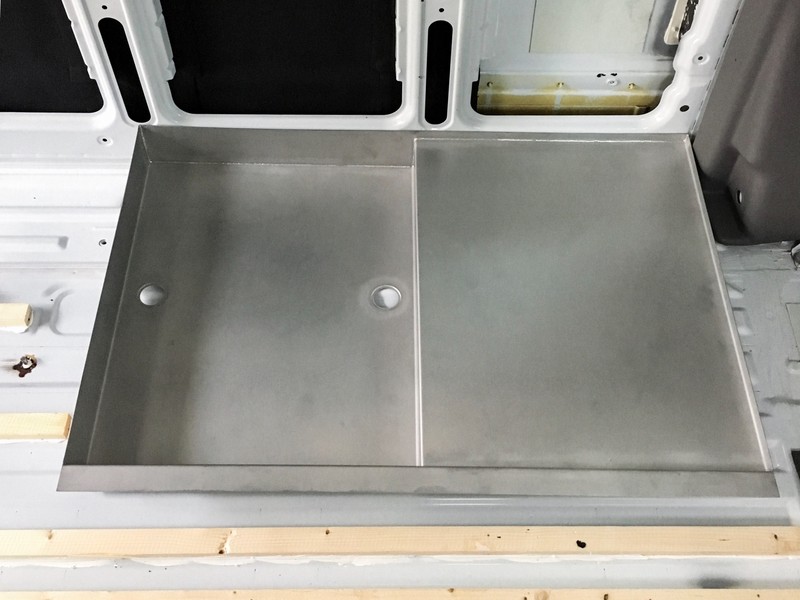 The left "lower" part is the actual spot to shower with two already submerged drains. Of course it would be better to have one drain in each corner so no matter how lopsided the vehicle would stand, the water could always drain; in our case it is only possible to the front and back. Another option would be a conical shower tray. But our option is the best one considering the vehicle specific facts, because below the shower tray partly sits our gas tank.
As soon as the insulation and the floor panels are finally installed, we will build a wooden sub-frame for the shower tray and glue it to the floor with Sikaflex 252i as usual.
Here are Jan's sketches of our custom shower tray