A "dirty" thing – waste water. To be self-sufficient with the campervan you need electricity as well as fresh and clean water. But where to but the dirty water? In the greywater tank!
Our grey- or wastewater tank is placed where it takes up the least space: underfloor, below the vehicle, outside of the living space. We mounted it right where you usually find the spare tire (and its holder). It fits perfectly because we had it custom made. As it still sits higher than the drive shaft so the ground clearance is not limited.
We chose a 120 liter freshwater and an 80 liter greywater tank. The walls of the greywater tank are welded with an extruder. The tank has a 19mm hose piece. If the tank gets too full, the excess water can get out via the vent connector before it reenters the vehicle through the shower tray. Of course the tank also has an inspection flap to drain the water. The filling level can be checked visually through one white plastic wall or via the electronic filling level display from Votronic. Before building in the sensor it just had to be shortened to the height of the tank and adjusted manually. We put the cables through an already existing hole in the floor.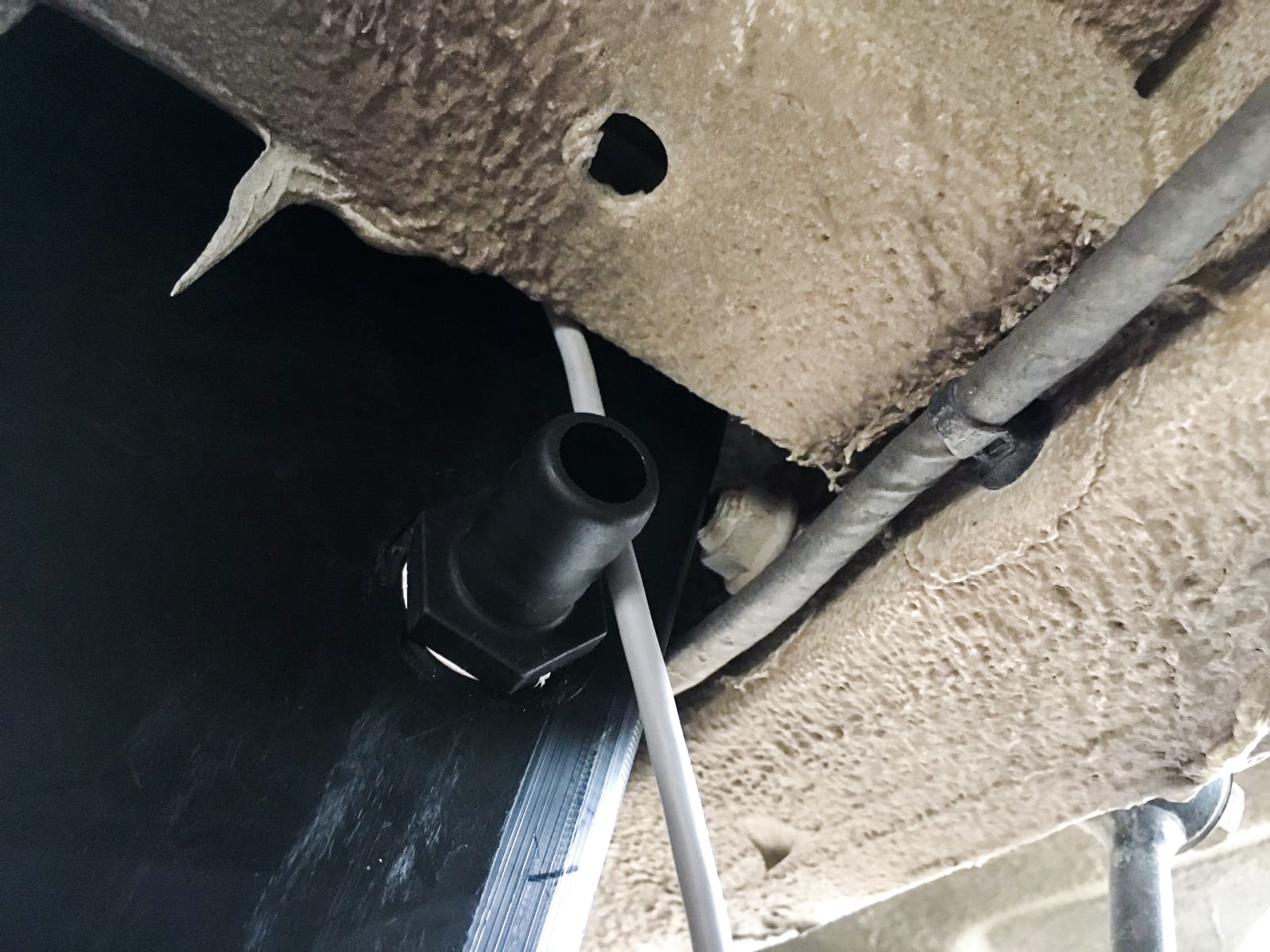 Before the installation of the greywater tank we had to remove the spare tire and dismount the holder as well as the flaps for the fixing of said holder with an angle grinder. The greywater tank has its own welded holders made of 10mm plastic. With tapping screws and nuts the tank was then fixed to the bars below the vehicle. It now sits tight and cannot loosen even when driving.
An alternative to an underfloor greywater tank like ours are waste tanks in the inside of the vehicle, but they reduce the storage space, which is small already. That is why this was not an option for us. And we like to keep the waste water outside.
If you have any questions or would like to have your own custom made (grey-) watertank, we recommend Tanknologie here in Hamburg; they are super friendly and did a great job at a reasonable price!